Art Deco
There are eras we gaze back upon with wonder. Following the First World War, the world looked to the future with optimism, a sense of adventure and unrivalled style. It was a time when glamour and opulence were the height of fashion; when fine craftsmanship ruled, when travel brought new and modern styles, eclectic global inspiration and futuristic new technology.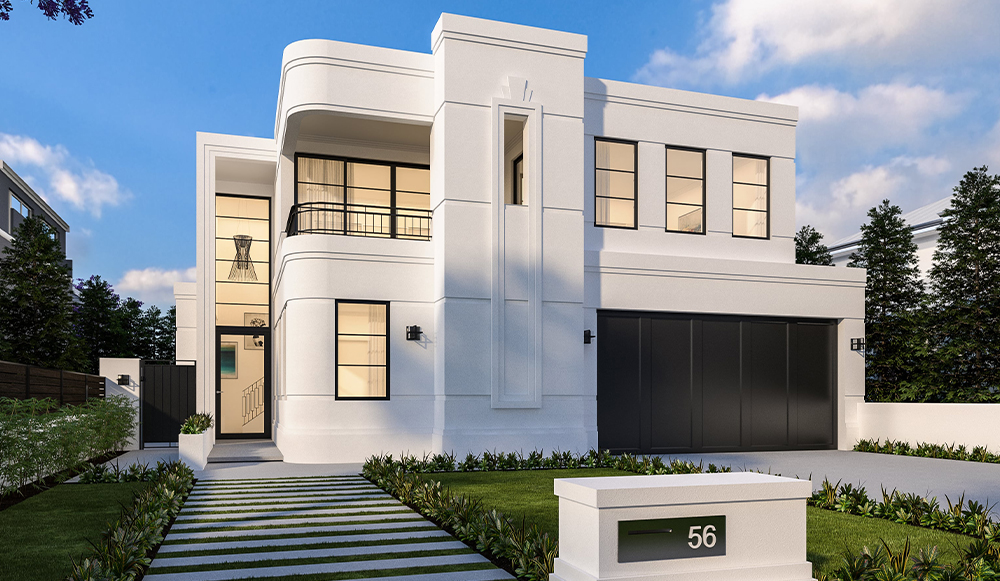 Exuberant, yet sophisticated, the style of the Arts Décoratifs – or Art Deco as it would later be called – took its name from the Exposition International des Arts Décoratifs et Industriels Modernes held in Paris in 1925.
Adopting bold colours from the explosive Parisian art scene and evolving from the Arts and Craft and Art Nouveau movements, it frequently exoticized the styles of China and Japan, India, Persia, ancient Egypt and Mayan art. It featured rare and expensive materials, such as ebony, ivory, zebrawood and silk, combined with exquisite craftsmanship.
From fashion, jewellery, textiles and furniture, to cars, trains and ocean liners, to seaside mansions, apartments, municipal buildings, theatres and skyscrapers, the Art Deco style conquered the globe with speed and style.
Recapture the romance and magic of the decadent early 20th century with a bold, geometric Art Deco statement. Crisp white render curves into semi-circular door arches and an ocean-going porthole window. Roof structures are hidden behind parapet walls, corner windows make a strong design statement, featuring contrasting black frames to accentuate horizontal lines.
Metal highlights abound, polished chrome, brass, or steel fixtures, from door handles, to high-end European appliances. Natural marble and stone add understated elegance to your kitchen and bathrooms. Continuous white plastered surfaces reflect light that floods in through large expanses of modern glass, and let your interiors do the talking.
Choose finely-crafted lamps and unique light fittings to accompany sculptural mirrors, creating a sumptuous mood with lighting. Add rich textiles, like plush velvet, with simple but decorative piping. Put your collection of artefacts from your travels on display, for a global cultural feel. Or add a nautical theme, to capture coastal living and the romance of sailing on the open ocean. Let your new home take you an inspiring and timeless journey.
ART DECO HOME DESIGNS
The style de jour of the 1920s and 1930s, Art Deco is right at home in many of Perth's established suburbs, with our interpretation bringing a sense of old-school glamour to the modern home.