Coastal Plantation
Palm trees bending and swaying. Tropical breezes blowing away the stifling humidity. The allure of a life lived under gently-spinning ceiling fans, entertaining guests while sipping refreshing home-made drinks to stay cool.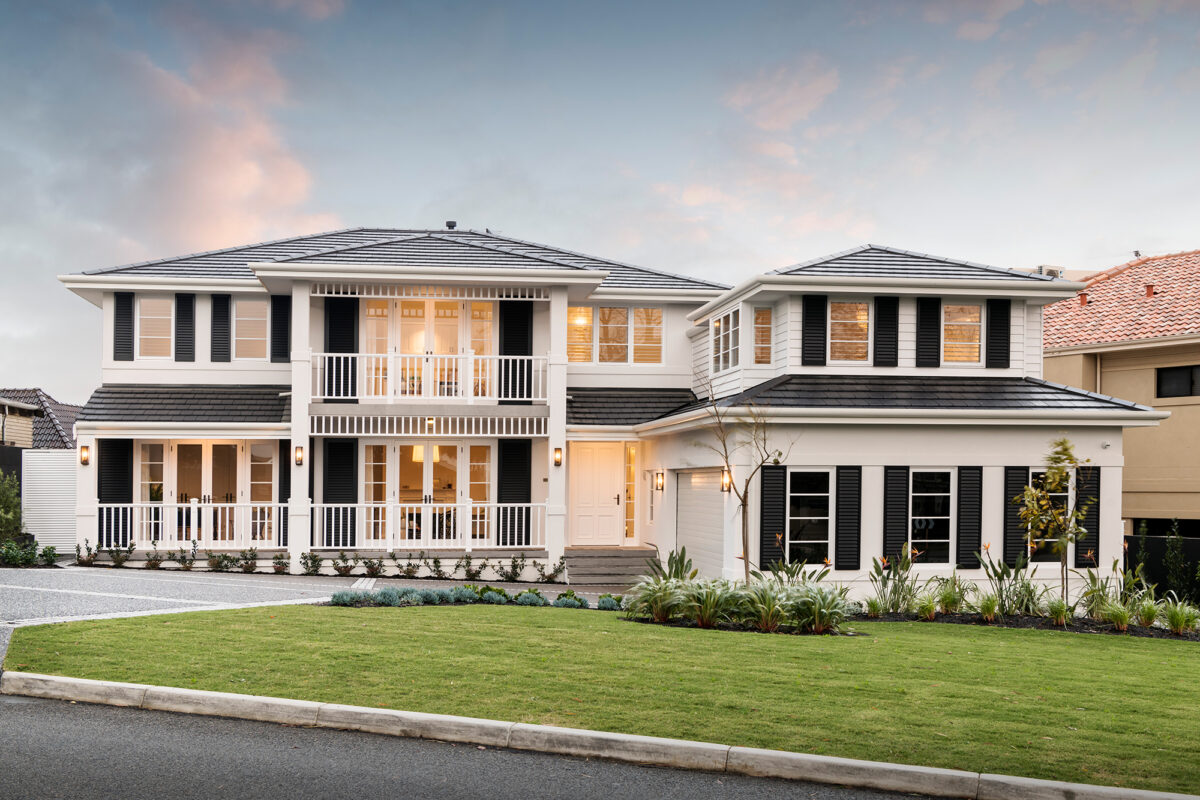 The story of old Colonial Plantation homes is an imagined, romantic past from a bygone era, combined with the laidback sophistication and tropical luxury of hideaways in Hawaii and the Caribbean.
These often-sprawling plantation homes offered effortless charm, with wide steps guiding you to the welcoming atmosphere of deep and accommodating verandahs. In addition to being known for generous hospitality, these spaces provided both respite from wild tropical storms, protection from harsh summer sun and a vantage point from which to survey the plantations.
Inspired by the informal historical charm of plantation homes and welcoming coastal retreats, our Coastal Plantation editions are well-proportioned homes that sit comfortably and confidently in any streetscape. The homes are capped with a low, hipped roof in a dark, contrasting colour. Slatted timber window shutters are painted in contrasting shades with predominantly white exteriors. Simple decorative porch balustrades and spandrels appear charming and unfussy, recalling the past while adding visual depth.
Welcoming and generous entry spaces are the first thing you'll notice when you step inside. Natural fabrics and light, breezy materials like linen, punctuated with pops of botanical green. Comfortable cane furniture and potted palms are perfect for both inside and out, matched with colonial or shaker kitchen and bathroom cabinet details.
When it's time for guests, both living areas and other spaces open to generous outdoor rooms. Comfortable outdoor settings and tropical ceiling fans fit perfectly with the laidback lifestyles we seek today.
Coastal Plantation Homes Designs
Casual, comfortable and happily unpretentious, our Coastal Plantation home designs combine the grace of old Colonial plantation homes with the laidback allure of luxurious hideaways in Hawaii and the Caribbean. Timeless and enduring, it's a style that many Western Australians feel right at home with. Key living spaces in these coastal-style homes are open-plan, free-flowing and family-friendly, while deep eave overhangs provide welcome shade to help keep interiors cool and comfortable.