Resort
When we escape on holiday, the water has an almost mystical draw. It calls to us – from the raw power of ocean waves crashing, to the serenity of a koi pond, or the rhythmic laps of a deep blue swimming pool. Picture a thatched bungalow over the warm blue water of Bora Bora. Or a standalone cabana by an infinity pool in the Maldives. Or watching the sunset from your private lanai in Hawaii overlooking the Pacific Ocean. Picture yourself relaxing in a spacious villa with its own private courtyard. Lightweight curtains billow in the summer breeze. Relax in your luxurious lanai, outdoors yet in total seclusion next to a tranquil water garden or turquoise lap pool.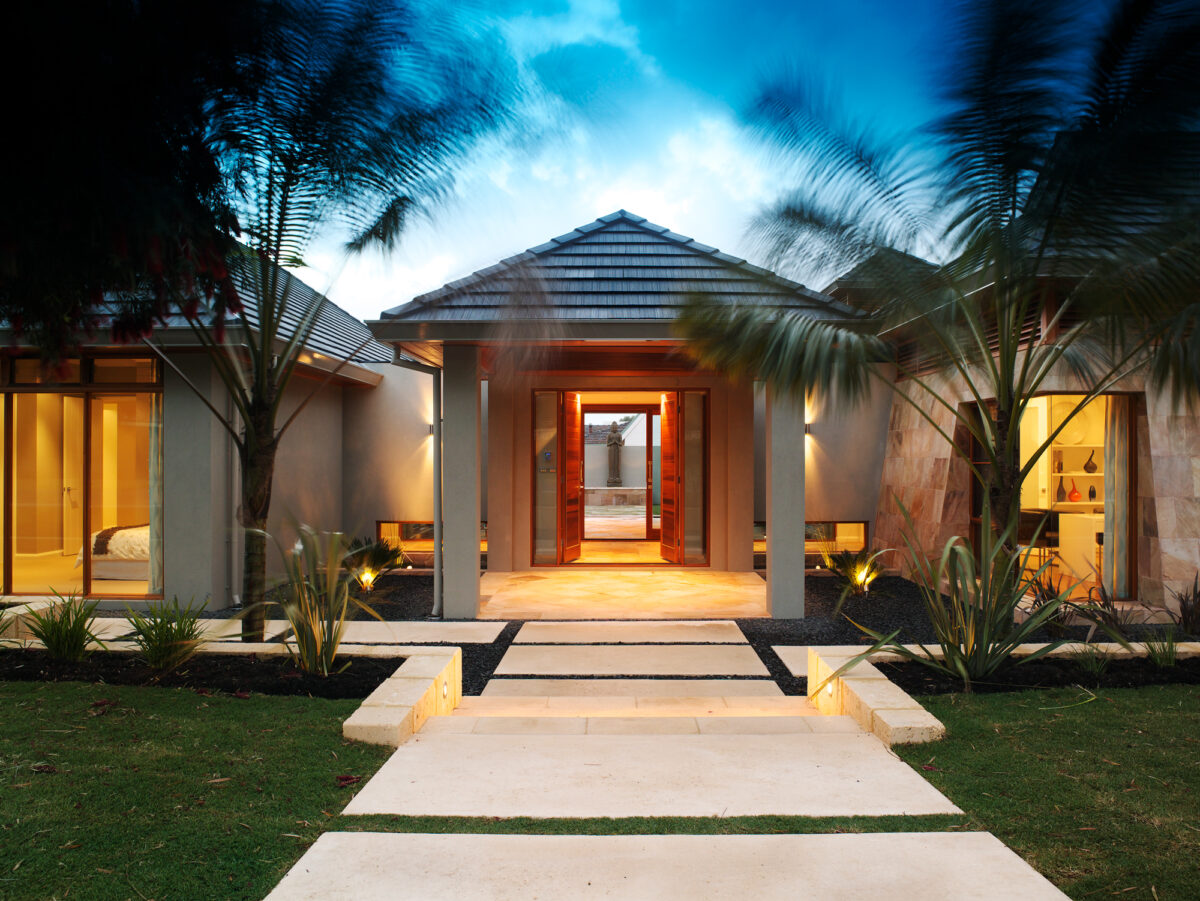 And when we return home, we dream of recapturing this feeling, free from everyday stresses and responsibilities. An oasis in our own home, in comfortable yet luxurious surroundings, soothed by the tranquil sound of water. A place where every day is a reminder of tropical getaways. A sanctuary where every need has been anticipated, and nothing has been left to chance.
Our Resort editions capture the essence of a tropical getaway, adapted to our contemporary Perth lifestyle. Imagine raised pavilion roofs rising to a peak, with angular gutters to evoke the pagodas of Asia. Designed with multiple pavilions around a private central courtyard for outdoor entertaining, where the indoors seamlessly transition to the outdoors. Separate but connected pavilions cater for the way we live today, with multi-generational living, to accommodate parents, teenagers or guests.
Spacious, wood-paneled bathrooms with crisp, white towels are your personal refuge. Or fire up the barbecue and open up the whole house to celebrate with family and friends. However you live, the resort is waiting for you.
Resort Home Designs
Featuring impressive volumes, expansive sections of glass, effortless indoor/outdoor living and a pared-back interior, our Resort-style homes combine the true relaxation and sophistication that we seek in our day-to-day lives.